The Legal Department Criminal Justice Program seeks to eradicate discrimination in all aspects of the criminal justice system. Despite the civil rights victories of our past, racial prejudice still pervades the criminal justice system. The "war on crime" in America is too often waged against innocent individuals who are suspects solely because of the color of their skin. As a result, African-Americans are more likely to be stopped, searched, arrested and imprisoned.
As President Mfume stated in April 2000, "[t]he fact of the matter is, if you are a person of color living in the United States, the police often look at you differently and with a level of suspicion. They always have, and until something is done to raise the level of accountability, they will continue to do so."
Racial disparities affect both innocent and guilty minority citizens. The unequal treatment of minorities in our criminal justice system has manifested itself in a national prison population that is overwhelmingly African-American. The unequal targeting and treatment of minorities throughout the criminal justice process –from arrest to sentencing — reinforces the perception that drives the inequality. More minority arrests and convictions perpetuate the belief that minorities commit more crimes, which in turn leads to racial profiling and more minority arrests. As a result of this pervasive problem, the 2000 U.S. Census found that one in every 20 black men over the age of 18 was in prison.
The NAACP Legal Department is committed to ending this over incarceration of African-Americans and has been leading the charge in our communities and our courtrooms to end this systematic injustice.
December 2014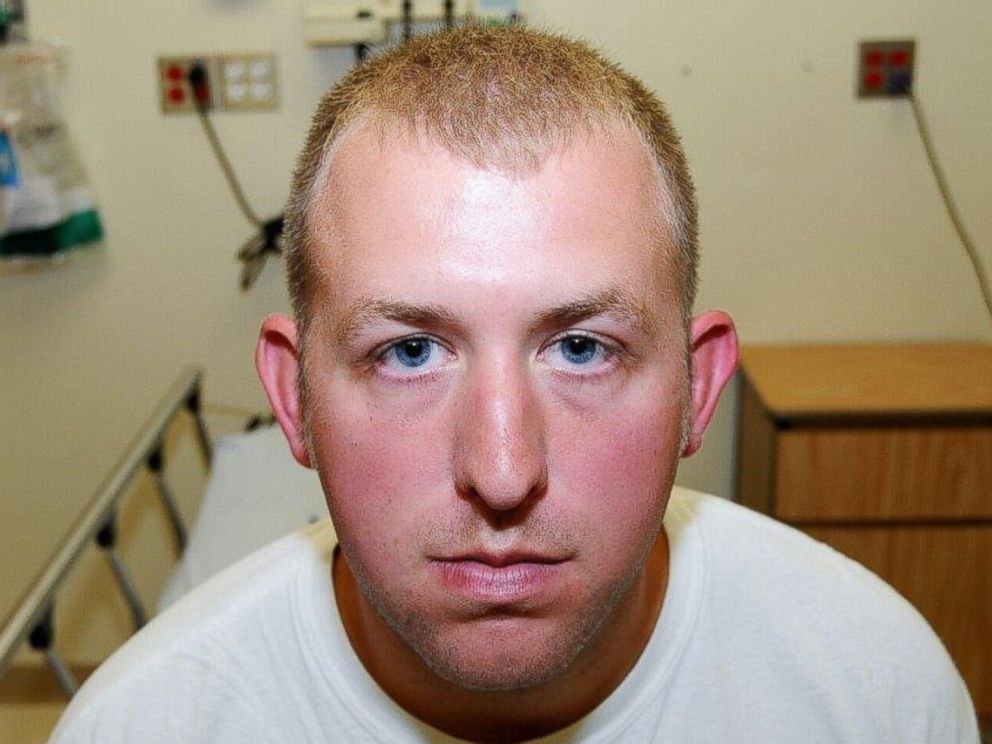 One Challenge for Ferguson Grand Jury: Some Witnesses' Credibility
The grand jury in the case of Michael Brown's shooting didn't just face an onslaught of witnesses with conflicting memories of what happened the day white police officer Darren Wilson killed Brown, an unarmed black teenager. It also heard from witnesses who couldn't be believed at all.
Some admitted lying. Others changed their stories under questioning. Prosecutors were so skeptical of one woman's account that they asked whether she might have dreamed about seeing the confrontation in Ferguson, Missouri, on August 9.
Most of the dozens of witnesses who testified likely did their best to describe what they saw, but a review of thousands of pages of grand jury documents shows that untrustworthy testimony came from some witnesses on both sides.
"It's no surprise that some people did not tell the truth in this or any other grand jury," says CNN legal analyst Jeffrey Toobin.
What is unusual in the Ferguson case is that prosecutors chose to call so many witnesses, including some whose credibility they doubted.
"Usually, a prosecutor applies her own screen to the witnesses — and only introduces evidence that she believes will be credible and believable," says Toobin.
Analysts differ over why prosecutors called witnesses with questionable credibility. Some say the prosecution wanted to present a jumbled case, to help Wilson. Others say the intense scrutiny and likelihood of a separate federal probe make it common in some places to toss anything and everything at a grand jury probing a controversial police killing — even witnesses who prosecutors believe aren't likely to tell the truth.
Documents from the Ferguson grand jury
CNN's examination of thousands of pages of grand jury documents turned up several examples of testimony that came with little to no credibility. Here's a look at some examples:
Witness admits false statements
Witness 35 said Brown was "on his knees" when Wilson shot him in the head.
Under questioning, however, his testimony fell apart.
"What you are saying you saw isn't forensically possible based on the evidence," a prosecutor said.
The witness acknowledged making up testimony.
"Are you telling us that the only thing that's true about all of your statements before this is that you saw that police officer shoot him at point blank range?" a grand juror asked
"Yes," he answered.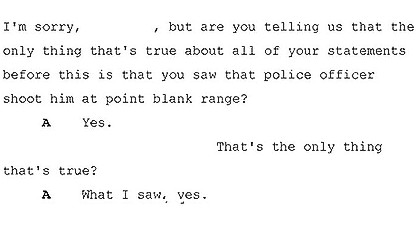 Witness' racist rant: 'They need to kill the f-ing n—–s'
Witness 40′s testimony supported Wilson's version of events. Yet prosecutors questioned whether she was even in Ferguson on the day Brown was killed — and they asked her about a racist post online that would diminish her credibility as an impartial witness.
Video from that day shows no sign that her car was there, and the way she claims she drove home is physically impossible, authorities told her.
In later testimony, Witness 40 changed her story about some of what she saw and admitted to having gathered some details from news reports. She also gave a different reason for having allegedly been in Ferguson that day, and shared part of a journal that she claimed to have kept.
On the day of the killing, she posted a comment online saying, "They need to kill the f—ing n—–s. It is like an ape fest," the grand jury documents say. (CNN is redacting the "f" and "n" words, but she used them in full.) She also organized a small group helping raise money for officers, including Wilson — a group she said was created as a result of this incident.
She also said she is bipolar, takes medicine for migraines, and has memory problems.
"Is it possible, do you think, that you dreamed about this after it happened and it feels real to you that you were up there?" a prosecutor asked. The witness insisted she knew it was real.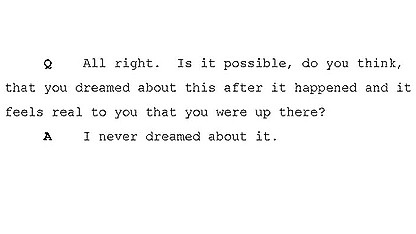 Prosecutor: 'Did you see this at all?'
Prosecutors called Witness 22 to explain that she lied to investigators and never witnessed the incident.
"You gave two statements, were both of those statements true?" a prosecutor asked.
"No," she answered. "I just felt like I want to be part of something … I didn't see what I told the FBI what (sic) I saw."
She said she was actually passing along what her boyfriend told her he saw.
Prosecutors also played the grand jury a 10-minute police interview with a man who claimed to have witnessed the shooting. Then they played a phone call in which the man admitted that he actually had not seen the incident.
Another witness insisted another officer was with Wilson at the time of the shooting. (By all other accounts, Wilson was the only officer present when he shot Brown).
This witness described having a clear view of what transpired despite there being a building between the witness' location and where the incident took place.
"We all know people can't see around corners, right?" the prosecutor asked.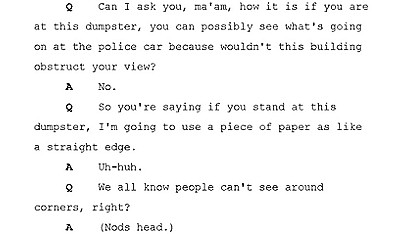 Another witness — number 37 — testified to seeing events that are hard to believe. He said that during a confrontation at Wilson's vehicle, Wilson shot Brown point blank in the chest — but that Brown did not fall over and was not clearly bleeding as he ran away.
The witness also gave differing accounts as to how many shots were fired.
"You told three different stories in the time we've been here today. So I want to know which one is really your memory or did you see this at all?" a prosecutor asked.
Witness 37 posed an intriguing question to the prosecutors.
"If none of my stuff is making any sense, like why do y'all keep contacting me?" the witness asked.
Prosecutors' strategy debated
We posed that question to CNN legal analysts. Why did prosecutors present evidence from witnesses with shaky credibility?
Sunny Hostin, a former federal prosecutor, believes the state wanted to avoid presenting a clear-cut case that would have led to an indictment. "Prosecutors generally present very streamlined cases to the grand jury," she says. "As a prosecutor you should not present witnesses in front of the grand jury that you wouldn't present at trial."
"The prosecutors didn't want to indict," Hostin says. "That's why they conducted it that way."
Mark O'Mara, a defense attorney, said St. Louis County County Prosecuting Attorney Robert McCulloch had a different reason to present so many people.
The chief prosecutor's goal was "to avoid the argument that he customized the presentation for a particular result — even though he had to presume, as it turned out, that he would still be criticized for that," O'Mara said.
Paul Callan, former deputy chief of homicide in the Brooklyn District Attorney's Office, says grand jury practices vary across the country.
Some prosecutors "use grand juries to provide political cover for the dismissal of difficult and controversial cases which the prosecutor knows will be lost at trial due to weaknesses in the available evidence," Callan says. These cases may involve police or civilians, such as "a store owner who shoots a robber under somewhat questionable circumstances or a father who kills the rapist of his daughter when he should've relied on the police.
"McCulloch's approach in presenting virtually every shred of existing evidence to the grand jury is unusual but not unprecedented," Callan said.
Some prosecutors in New York, for example, present virtually all evidence to grand juries in cases of police shootings, Callan said, citing a former high-ranking fellow prosecutor from another office.
"Cop shooting cases are always highly controversial and there is an awareness that the omission of any evidence may subject the prosecutor to future public criticism by either the family of the victim or by the police officers involved," Callan said.
Also, "virtually all of these cases now result in subsequent civil litigation where the record of the prior investigation will be closely examined and possibly publicized."
Local prosecutors know that federal authorities might open an independent investigation — as they have in Ferguson, Callan says. Federal investigators will obtain copies of the grand jury presentation and "an unfair or incomplete presentation may subject the prosecutor to criticism."
Analyst: Process, not necessarily result, is in question
As it is, prosecutors have hardly escaped criticism for throwing so much at the grand jury in Ferguson.
"I actually think the result — no charges — is defensible. But I don't think the process he (McCulloch) followed was appropriate," says Toobin, who also is a former prosecutor.
"The best thing the criminal justice system can do is treat everyone the same," he says. "And the process that the prosecutor used — using a grand jury, which is rarely used in any kind of setting, and throwing all the evidence, rather than a selection of it, before the grand jury — almost seemed to dictate the result, which was an exoneration."
Still, Toobin says, the evidence shows that a conviction would have been very unlikely had the case gone to trial.
"Given the evidence that came out, I think the exoneration may well be justified. But I don't think the process inspires a lot of confidence."
Source: CNN
Court: Pardon Does Not Mean Clean Criminal Record
A pardon by the governor is not grounds to wipe clean a criminal record, the Mississippi Supreme Court has ruled.
The case centered on the claim of Rebecca Hentz, who was among dozens of people pardoned by Gov. Haley Barbour in 2012.
She pleaded guilty in 2000 to attempting to manufacture methamphetamine, a felony. Hentz was sentenced to 30 years imprisonment with all 30 years suspended. She applied for and was granted a complete and unconditional pardon by Barbour.
Armed with the pardon, she asked a Tallahatchie County judge to expunge her criminal record. The judge denied the request, saying state law does not allow expunction, or deletion, of her criminal record. The state Supreme Court, in a rare 4-4 decision this past week, upheld the Tallahatchie judge's ruling. Justice Ann Lamar did not participate in the case.
Justice Leslie King said there is no state law that allows for an expunction after a criminal defendant receives an executive pardon. What that means, King said, is that "the history behind the offense should be retained unless or until the Legislature provides otherwise."
Justice James Kitchens, in a dissent, argued that there are state and federal court decisions that support a determination that a pardon renders a conviction moot and mandates expunction. Kitchens said the decision of the court "diminishes the effect of gubernatorial pardons in Mississippi."
As Barbour prepared to leave office in January 2012, he issued pardons, clemencies and other acts of leniency for more than 200 people, including Hentz.
In court documents, Hentz's attorney conceded state law does not expressly give a court authority to expunge a criminal record after a pardon by the governor.
"However, if it is the intent of a full, complete and unconditional pardon by the governor, to in essence restore a person to the status they occupied prior to their arrest and conviction, how can it be said that they are not entitled to have their record expunged?" wrote lawyer Tommy Defer, who represented Hentz.
Special Assistant Attorney General Lisa Blount said in a response that several laws provide for expunction of criminal records under limited circumstances. She said no state law provides for expunction upon the grant of an executive pardon.
Source: Associated Press
Analysis: 2016 Contenders Quiet on Police Protests
Since grand juries in Missouri and New York declined to indict white police officers in the deaths of two black men, protesters nationwide have demanded a reckoning and an acknowledgment that "black lives matter."
Yet so far, there are few signs such a conversation will come in a place where it might most make a difference — the next campaign for president.
Most of the current White House prospects have avoided speaking in depth or detail about the deaths of Michael Brown and Eric Garner.
From those who have, it only has been only brief, measured responses about a criminal justice system that many African-Americans view as stacked against them.
Republican Gov. Chris Christie of New Jersey, a former U.S. attorney, has just said he would not second guess a grand jury.
GOP Sen. Rand Paul of Kentucky, who recently visited Ferguson, Missouri, and has begun to court black voters, blamed Garner's death on the politicians behind New York's high cigarette taxes.
The presumed leading Democrat, Hillary Rodham Clinton, said the families and communities deserved a "full and fair accounting."
"We have allowed our criminal justice system to get out of balance," Clinton said. "And I personally hope that these tragedies give us the opportunity to come together as a nation to find our balance again."
Clinton and her potential challengers have not set forth a course to do that. They have given no indication they might join in protests that have reached into popular culture, with NBA and NFL players participating.
"Both parties are reluctant to bring up race in an explicit way unless they're forced to," said Karthick Ramakrishnan, a University of California political science professor and editor of the Journal of Race, Ethnicity, and Politics.
Jesse Jackson did make civil rights a central theme of his bids for the Democratic nomination in the 1980s. Fellow Democrats Bill Clinton and Barack Obama gave major speeches on race during their campaigns.
But not since John F. Kennedy and his successor, Lyndon Johnson, has a party nominee cited civil rights as a reason why voters should elect him.
That's largely because today's political leaders see more risk than reward in tackling race, Ramakrishnan said. It is easier to accept a system in which Democrats expect to win vast majority of the African-American vote and Republicans do little to engage black voters for fear the GOP will alienate other parts of the party's base, he said.
Democratic presidential candidates have won no less than 70 percent of the black vote since Kennedy in 1960. Obama, the first black president, won 95 percent and 93 percent of the black vote in 2008 and 2012 respectively, according to exit polls.
The African-American vote isn't "in play the same way other swing electorates might be in play," Ramakrishnan said.
The political rewards are elusive, but the risks are real. The few conservatives who have weighed in on the issue in some depth and done so in a way that sided with police have drawn scathing criticism from black leaders.
New York Republican Rep. Peter King, who has been teasing a 2016 presidential run, focused on Garner's obesity as a contributing factor to his death, which happened after Garner was placed in a chokehold by a police officer.
Another potential Republican contender in 2016, former Arkansas Gov. Mike Huckabee, charged that Obama was wrong to meet with "thugs" and "mob members" involved in the protests in Ferguson.
"I think that those type of statements are despicable," said the Urban League's president, Marc Morial. "It demonstrates a lack of sensitivity to humanity."
Morial and other African-American leaders said they also overwrite the positive signs that black voters see from Republicans such as Paul and Texas Gov. Rick Perry.
Perry has criticized mandatory minimum prison sentences and encouraged alternatives to incarceration for drug offenders, which are among the criminal justice reforms supported by black leaders.
"Right now, Republicans seem genuinely conflicted," said Benjamin Jealous, the former head of the National Association for the Advancement of Colored People. "You'll see somebody do something hopeful, and then you see them revert."
Which isn't to say Democrats are doing much better, they argue.
Jealous points to Clinton and her record on sentencing reform, which he characterized as weak. "That's the opportunity ultimately for somebody like Rand Paul," Jealous said.
While the protests create a sense that a window has opened for, as Clinton put it, the "nation to come together," the differences in public opinion don't suggest an easy way forward.
Polls show little agreement among Americans about whether the grand juries made the right decision in the Brown and Garner cases, how much race was a factor and the degree to which relations between police and people of color can improve.
Without a clear road map, said Carol Swain, a professor of political science and law at Vanderbilt University, it's unlikely any presidential candidate will choose to engage the nation in such a conversation as the 2016 election season begins.
"Both political parties should have an interest in this," Swain said. "But for decades, no one has known what to say or do."
Source: Associated Press
MS NAACP Responds to Last Week's Decision in Eric Garner Case
Our faith in the existing justice system continues to be shaken by the recent failures to indict police officers that kill black men. The Mississippi State Conference NAACP joins the thousands of citizens who have engaged in peaceful protests nationwide in proclaiming: "Black Lives Matter" and "This Ends Today"! The recent grand jury decision failing to indict the officer involved in the killing of Eric Garner in New York City sends a chill through the African American community. The system has failed us again. Black lives do matter and we cannot let these events discourage our efforts to bring more accountability to a very broken system. We cannot rest; we have to keep demanding systemic reform and it begins in our communities.
The state of Mississippi has seen its share of race-based killings at the hands of law enforcement. In March of 2013, 20-year-old Willie Lee Bingham, Jr. was killed by a Bolivar County Sheriff after he allegedly resisted arrest while attempting to flee the scene of a vandalized vehicle. He died as a result of a gunshot wound to the back of his head. Jackson attorney Dennis Sweet is now representing Latuana Hill, Bingham's mother in a pursuit to find justice for her son's killing.
When the Ferguson decision was revealed last week, we urged communities to remain steadfast and keep organizing. This week our message is the same. Over the next few weeks, we will prepare a series of community workshops and toolkits that assist groups in addressing police abuse of powers. Our hope is that community groups can build stronger relationships with law enforcement so that we can work together to solve community problems. This relationship-building involves a new level of accountability. Law enforcement agencies must agree to a greater level of transparency in order to build trust with communities. When this happens, our communities will be safer.
The MS State Conference NAACP will begin a series of workshops for its branches in January. These workshops will cover the following:
Understanding your rights when encountering law enforcement;
Building a relationship with your law enforcement agencies;
Holding law enforcement accountable (monitoring racial profiling, getting data you need to support your work, sample local ordinances).
While public demonstrations are important, we must work on solutions to address these broken systems. Last week, President Obama committed funds for law enforcement agencies to purchase body cameras and to implement additional community policing practices in their day-to-day work. This is a very good start, but it is only the beginning. We have to take seats at our local and state policy tables to develop clear recommendations to protect human and civil rights.
We're asking you to join us as we continue this very important work to end racial profiling and police brutality. Over the next two weeks, we will send information on how you can join these efforts, statewide and in your local community. Please stay engaged and get involved.  If you have ideas about moving forward, please share them with our office.
Peace and power,
Derrick Johnson, MS State Conference NAACP President
Rep. Bennie Thompson Wants Hearings on Deaths of Mike Brown, Eric Garner, and Others
Mississippi U.S. Rep. Bennie Thompson, the ranking member of the House Homeland Security Committee, joined fellow black lawmakers in calling for in-depth hearings on the deaths of several African American men killed by police this year.
Reps. Elijah E. Cummings, D-Md., and John Conyers Jr., D-Mich., ranking members of the House Committees on Oversight and Government Reform and Judiciary, respectively, joined Thompson in asking for congressional hearings on the killings of Mike Brown in Ferguson, Mo., and Eric Garner in Staten Island, N.Y.
In both those cases, local grand juries recently declined to indict the police officers who killed the men despite the presence of muddled evidence that a trial could illuminate. The non-indictments also sparked new waves of demonstrations across the country, including in Jackson.
"We firmly believe that events in Staten Island, New York, Ferguson, Missouri, and elsewhere have fractured the trust of Americans in the integrity of the criminal justice system," the Congressmen wrote in a letter to the Republican chairmen of their respective committees.
"The federal government has a critical role to play in ensuring that all Americans are treated equally before the law, especially by their local police, and it is our responsibility to exercise oversight of the funding and resources that the Federal government allocates to these local jurisdictions. Hearings into these topics will be important early steps on the long road of healing across the country."
Source: Jackson Free Press
Feds Release New Profiling Restrictions
The Justice Department Monday announced new restrictions on racial profiling by federal law enforcement agencies that will expand its prohibited application currently based on race and ethnicity to include profiling bans related to gender, national origin, religion, sexual orientation and gender identity, according to a summary of the government's plan.
The new guidelines, five years in the making, will for the first time apply to some national security activities, which were exempted under the initial 2003 policy. But the long-criticized investigative tactic of profiling will still be permitted during screening of commercial airline passengers, border inspections and during protective functions initiated by the U.S. Secret Service, all overseen by the Department of Homeland Security.
Included in the permitted border profiling functions are the U.S. Border Patrol's "activities in the vicinity of the border and (Immigration and Customs Enforcement) enforcement at ports of entry."
"Given the unique nature of parts of DHS' mission – most notably in protecting our borders and securing our skies – some DHS activity is not covered by the policy," the DHS said in a statement. "This does not mean that officers and agents are free to profile. To the contrary, DHS' existing policies make it categorically clear that profiling is prohibited, while articulating limited circumstances where it is permissible to rely in part on these characteristics, because of the unique nature of border and transportation security as compared to traditional law enforcement."
The activities of the U.S. military, intelligence authorities and diplomatic personnel also are not covered, as they are not considered law enforcement authorities.
The guidelines come in the wake of national unrest related to recent incidents in which white police officers have killed unarmed black men, notably in Ferguson, Mo., and Staten Island, N.Y. In both cases, the officers were not criminally charged, prompting waves of protests that have spread across the nation.
The guidelines apply only to federal authorities, though local police would be covered when they participate in federal law enforcement task forces, including terrorism and major drug investigations.
Among the goals is for federal law enforcement to service as a model' for the policy and encourage local authorities to adopt it, as well.
Attorney General Eric Holder is expected to brief local law enforcement officials on the policy today during a conference call.
"I have repeatedly made clear that profiling by law enforcement is not only wrong, it is profoundly misguided and ineffective – because it wastes precious resources and undermines the public trust," Holder said in a prepared statement. "Particularly in light of certain recent incidents we've seen at the local level – and the widespread concerns about trust in the criminal justice process which so many have raised throughout the nation – it's imperative that we take every possible action to institute strong and sound policing practices."
Holder characterized the policy as "a major and important step forward to ensure effective policing by federal law enforcement officials and state and local law enforcement participating in federal task forces throughout the nation."
Laura Murphy, the ACLU's Washington Legislative Office director, said the guidelines marked "an important signal of progress, but it does not completely address the need for reform of policing tactics at the state and local level."
"The inclusion of new categories such as national origin, religion, sexual orientation and gender identity; establishment of much-needed data collection and training, and coverage of some state and local law enforcement activities are elements of the Guidance we should celebrate," Murphy said. "However, several components…do little to nothing to protect some minority populations that have to endure unfair targeting by law enforcement every day. Using race, the color of someone's skin, religion, or ethnicity as any basis for suspicion or investigation is demoralizing, unconstitutional, and a practice that should be left in the history books, where it belongs.
"This guidance," Murphy said, "is not an adequate response to the crisis of racial profiling in America. The president should compel all his federal police, as well as state and local agencies to adhere to the law and stop engaging in biased profiling now."
Source: USA Today 
After Ferguson, Mississippi Pushes Cop Accountability
Several Mississippi officials are looking at ways to increase police accountability in the wake of deadly encounters between police and unarmed men nationwide.
In the capital city, the Jackson Police Department will provide basic Spanish lessons to officers through a Camden-based group called Bilingual Works.
"We have a large number of Hispanics in the area now and, from my impression, that number's only going to grow," JPD Chief Lee Vance told WAPT Thursday.
Jackson State University professors will teach the courses, which will count as continuing-education credits for officers. Law enforcement agencies have struggled with policing the Jackson area's immigrant community.
In 2012, JPD acquired electronic hand translators with a federal grant, which Vance said remain in use. In December 2013, a task force formed with U.S. Marshals and members of the Mississippi State Highway Patrol, Jackson Police Department and the Hinds County Sheriff's Office led a raid on the home of a woman named Rosi Lopez, an American citizen who had Spanish-speaking immigrant relatives staying at her home in Jackson. Immigrant-rights advocates said the raid was indicative of lack of cross-cultural training that can result in tragedy.
Improving training and increasing police accountability have formed a central thread through national debates around such deaths as Michael Brown in Ferguson, Mo., and Eric Garner in New York City.
In light of those tragedies, which sparked national protests, a Mississippi legislator has followed suit with President Barack Obama's proposal to require that police officers wear body cameras while on duty.
State Rep. Chuck Espy, D-Clarksdale, said he would introduce the legislation in the 2015 session. "Given recent national events over the past year, including Ferguson, Mo., and New York, the public has increasingly lost confidence in our policing and judicial systems," Espy said in a media release.
"The level of trust between local police and the communities they protect will determine the strength of that relationship."
Officer Darren Wilson shot and killed Brown after stopping him for walking in the street. On Nov. 24, a grand jury declined to indict Wilson on any charges.
While Brown's story is not an isolated incident, the grief in the Ferguson community sparked a national movement. Brown's parents spoke out and asked for police departments across the country to adopt body camera policies.
Digital video recordings could provide proof of events that might have otherwise been muddied by conflicting testimony and reports, such as in Brown's case. The cameras can also create a record of time and dates, which "helps authenticate incidents and log an automatic evidence file," the statement reads.
The New York Times reported that the Rialto, Calif., Police Department experienced an 88 percent decrease in complaints against officers and a 60 percent decrease in incidents in which officers used force after adopting body camera policies.
Espy believes he can gather bipartisan support for the initiative. Some are questioning how helpful video footage will be in determining how justified officers' actions are, considering a grand jury's decision Wednesday not to indict New York Police Department officer Daniel Pantaleo, who put Eric Garner in the chokehold that ended Garner's life.
That incident was caught entirely on video. Garner was unarmed and non-violent.
Source: Jackson Free Press
Body Cams for All Mississippi Police: New Legislation Expected in 2015
When state lawmakers begin their legislative session in January, you can expect to hear about a bill that would fund body cams for all Mississippi patrol officers. That announcement came Thursday from Rep. Chuck Espy's (D-Clarksdale) camp.
Espy said he believes the cams will help keep everyone honest. The cams are already in place in some Mississippi cities, funded by the local boards.
"Given recent national events over the past year, including Ferguson, MO and New York, the public has increasingly lost confidence in our policing and judicial systems," said Espy. "The level of trust between local police and the communities they protect will determine the strength of that relationship."
Espy said he believes he can get bipartisan support for the bill.
Espy outlined his reasoning in a news release:
Digital video devices have been used as an effective way to provide proof of events. It also creates a record with time and dates stamps, audio, and GPS location, which helps authenticate incidents and log an automatic evidence file. While dash cameras are used by the Mississippi Highway Patrol, body cameras would give state and local law enforcement another tool to not only protect themselves, but the public as well. Espy suggested that jurisdictions "develop protocol, training and guidelines for the use of body cameras, but see the use of the devices as an extra layer of security."
The Police Executive Research Forum (PERF) notes that body cameras are an effective way of policing, which increases accountability and transparency in their interactions with the community. A New York Times (8/2013) article, In California, a Champion for Police Cameras, cited the Rialto, California, Police Department's use of officer-mounted cameras resulted in an 88% decrease in complaints filed against officers and a 60% decrease in incidents where officers used force, with those officers not wearing cameras being twice as likely to use force.
Source: NewsMS
White People Confess to Crimes They've Gotten Away with after Eric Garner Decision
The hashtag was trending on Twitter Wednesday and Thursday after a grand jury cleared the officer who killed Eric Garner.
As protests erupted Wednesday in New York City, a different kind of demonstration took place on Twitter: a mass conversation about white privilege and policing.
The conversation began shortly after a grand jury cleared the officer who killed Eric Garner with a chokehold. Jason Ross, a writer for The Tonight Show With Jimmy Fallon, tweeted about his own experience of escaping serious police punishment, then called on others to share their stories:
The #CrimingWhileWhite hashtag — a riff on #DyingWhileBlack — was soon trending nationally. The result was that as protesters gathered in the streets of New York, white people shared stories of breaking the law and escaping significant punishment online. BuzzFeed News spoke with a handful of the people who used the hashtag, and their stories are included below.
Protesters in New York City Wednesday (Eric Thayer/Reuters)
Joe Arguelles: "I had zero concern for the repercussions."
Arguelles told BuzzFeed News that as a teenager and young adult he shoplifted "once or twice a month" for three years. He was never particularly concerned about what might happen to him because the most he expected to experience was "a slap on the wrist."
Years later, Arguelles came to see that mentality as tied to his status as a white man. "If I weren't white, I assume I wouldn't have been doing it in the first place because my thought process would have been different," he said. "Now I'm more conscious that that's not a luxury everyone has."
Protesters stage a "die-in" at Grand Central Terminal in Manhattan on Wednesday (Adrees Latif/Reuters)
Andy Paul: "It was the classic 'you should at least be checked.'"
Paul was was driving down a street in Oxford, Mississippi, in February when a police officer pulled him over. His taillight was out, his insurance was expired, and he'd had a few drinks. "It was like having three strikes," Paul told BuzzFeed News. But in the end, the officer just let him go.
"It was still strange to me," Paul said. "He was a white cop. I was a white guy. But he didn't even follow me to make sure where I was going."
Amanda Hicks: "Yes, white privilege definitely exists. It's historically engrained in our society."
Hicks' contribution to the #CrimingWhileWhite hashtag was a reference to Michael Brown, who was killed after walking down the middle of a street in Ferguson, Missouri. In Hicks' case, she said she walks down the middle of the street all the time and, obviously, is still alive.
Hicks decided to tweet the comment after seeing a picture of a protester Wednesday with a sign that read "white silence = white consent." She added that she is angry at white police officers and believes "nonviolent turmoil" may be necessary to bring about change.
NYPD policeman reacts next to protesters Wednesday in Manhattan (Eric Thayer/Reuters)
Ryan Duel: "Almost every single experience I've had with a cop has been plausibly influenced by me being a caucasian male."
Duel shared several stories of getting away with crimes. In his tweet, he referenced a time he took ecstasy at the University of Alaska Anchorage then became intimate with a woman in the driver's seat of a truck. Duel said he was "very clearly on something," but when police found him in the vehicle, they merely warned him not to drive right away.
"They said, 'I can see you're on something,' and 'don't go leaving right now,'" he recalled.
In another instance, about 10 years ago when he was 19, Duel and some friends went to a grocery store and started shooting each other with realistic-looking airsoft guns. He said it was a "moronic" thing to do, and the police ended up coming in with their own guns drawn. Officers ordered Duel and his friends to drop their weapons, which they did — after a moment's hesitation.
"The police were cautious," Duel said, but not about to open fire. He added that over time he came to believe that the way police treat people is "not because of anything you did, it's because of who you were born."
Stephen Robbins: "The thing that's frustrating is that people won't even acknowledge that there's a problem."
Robbins was driving in Washington state about three years ago when he was pulled over for speeding and running a red light, he told BuzzFeed News. He also happened to be texting while driving. Like many who shared stories using the #CrimingWhileWhite hashtag, Robbins got off with just a warning. The traffic stop wasn't a major crime — though racially biased traffic stops have been a major complaint among Ferguson protesters — but Robbins imagines it might have gone very differently if he had been a different person.
"If I smelled like cigarette smoke, if I was driving an old crappy car, if I had an accent," Robbins said. "All of these things go through filters. Those are all things that also might have definitely led to a different outcome."
Chandler Dutton: "This guy was so so nice to me."
Dutton told BuzzFeed News that about five years ago, before he had his license or permit, he was out driving near a Native American reservation in Arizona. Eventually, a police officer pulled him over. Dutton ended up admitting that he didn't have a license, but escaped punishment anyway.
"He was like, 'Just so you know, in the future you can get in a lot of trouble for driving without a license,'" Dutton said of the officer. "He was super cordial."
Dutton went on to speculate that if he weren't white, he might have ended up being ticketed, or even arrested.
"I don't think I would have had an opportunity to even explain myself," he said.
People take part in a protest against the grand jury decision on the death of Eric Garner in New York City Wednesday night (Eric Thayer/Reuters)
Source: BuzzFeed
November 2014
What do the Newly Released Witness Statements Tell Us About the Michael Brown Shooting?
In the grand jury case against Ferguson police officer Darren Wilson, the prosecution revealed that physical evidence weighed in Wilson's favor and that he had not unlawfully shot 18-year-old Michael Brown to death.
Over the course of the investigation, federal agents interviewed dozens of witnesses—some compelled to come forward by subpoena—to piece together what happened on that August 9 afternoon. Shortly after the press conference announcing the jury's decision, St. Louis County Prosecuting Attorney Robert McCulloch released the transcripts of interviews with witnesses and Wilson.
We read and analyzed more than 500 pages of witness testimony and compared each statement to those given by Wilson. Below is a chart comparing several key details of the officer's report to the witness statements. Was Brown facing Wilson when he was shot, or was his back turned to him? Did Brown have his hands in the air, or were they reaching toward his waist?
 Click Here to Enlarge
The chart above doesn't reveal who was right or wrong about what happened that day, but it is a clear indication that perceptions and memories can vary dramatically.
Here's a breakdown of the data we found:
More than 50 percent of the witness statements said that Michael Brown held his hands up when Darren Wilson shot him. (16 out of 29 such statements)
Only five witness statements said that Brown reached toward his waist during the confrontation leading up to Wilson shooting him to death.
More than half of the witness statements said that Brown was running away from Wilson when the police officer opened fire on the 18-year-old, while fewer than one-fifth of such statements indicated that was not the case.
There was an even split among witness statements that said whether or not Wilson fired upon Brown when the 18-year-old had already collapsed onto the ground.
Only six witness statements said that Brown was kneeling when Wilson opened fire on him. More than half of the witness statements did not mention whether or not Brown was kneeling.
It is rare for authorities to release grand jury documentation, but the St. Louis County Office of the Prosecuting Attorney permitted the release of most of the documents on Monday, as The New York Times recently reported.
McCulloch highlighted the variations in witness accounts during the grand jury press conference. "In subsequent interviews with law enforcement, or their testimony before the grand jury, many of the same witnesses acknowledged that they didn't actually see the shooting," McCulloch said. "Some were running for cover. Some were relating what they heard from others or as I said, what they assumed happened." But many witnesses held steadfast to their interviews. "Several other witnesses maintained their original statement that Mr. Brown had his hands int he air and was not moving toward the officer when he was shot," McCulloch said.
Reading the witness interviews provides a revealing window into the grand jury's investigation. What could a witness see while positioned a "few blocks" away from the incident, as in the case of Witness 30?
Witness 43, a juvenile who was listening to music at the time of the shooting, looked out the window and saw the incident. "I saw a man with his hands in a police car trying to snatch it away, and then he got away. [Officer Wilson] pulled out the taser and tried to tase him but he missed. Then he pulled out the gun and tried to shoot him and he missed. Then he ran down the street and then he shot him once and I stopped looking, but I heard like four or five more shots. Then when I looked back out there he was laying on the ground."
With reporting by Ashira Morris, Adelyn Baxter, Ruth Tam and Travis Daub
Ed. Note: The table has been updated to more accurately reflect the witness testimony of Officer Darren Wilson, and language about witness testimony was clarified to say witness statements.
Source: PBS News
Ferguson Grand Jury Decision Spurs Jackson Protest
A small group of protesters halted morning traffic in downtown Jackson early Tuesday just hours after prosecutors in Ferguson, Missouri, announced that a grand jury would not indict the officer who shot and killed Michael Brown.
Local organizers said the group of around 20 young professionals from Jackson came together Tuesday around 6 a.m. to let their message "resonate with commuters."
"This is an issue here in Jackson and in Mississippi," said 28-year-old Brittany Gray, the organizer of the demonstration. "We wanted to show that Ferguson is everywhere. We wanted to stand in solidarity with people in Ferguson as well as the family of Michael Brown and let people know that all lives matter."
Jackson police responded Tuesday to the Pearl Street bridge – a main route to the downtown district from Interstate 55 – where the group was blocking traffic. While Jackson Police Department spokeswoman Colendula Green said Tuesday morning the protesters dispersed without incident when police arrived, Gray said the group remained in place for "a little while," even after officers asked them to move.
Gray, who spent more than a week in Ferguson when the initial protests began in August, said the group will continue to broadcast their message in Jackson through non-violent protests – what she calls "solidarity actions."
While Gray does not support the violence that occurred during Monday night's protests in Ferguson, she understands the frustration demonstrated by the individuals in Ferguson.
"This is not going away," Gray said. "When I was in Ferguson, I saw how oppressed the people there were. When you're oppressed for so long, there's a natural sense of rage when you finally do raise your voice. I'm certainly not in support of looting, but in any social revolution, violence will occur."
Jackson Mayor Tony Yarber said Monday that he did not anticipate the police force in Jackson having to use force in any potential protests in the city. Instead, he said his administration is taking a more proactive approach, ensuring that police are trained to "lend on the side of caution before making a rash decision in the line of duty."
"We welcome protests anywhere where there is injustice," Yarber said Monday. "To say that there should be no protests, I think that it is un-American, quite frankly."
The mayor made his opinion regarding the issue known on Twitter. Monday evening, after the grand jury's decision was announced in Ferguson, Yarber tweeted: "….Emmitt Till… Trayvon Martin… Michael Brown… Tony Yarber????"
The tweet received mixed reactions, and Yarber replied to individuals who questioned the meaning of the tweet.
"… our justice system is bigger than this," part of one tweet from Yarber read.
The Clarion-Ledger asked Yarber Tuesday specifically about the meaning of the initial tweet, but he sent a statement that did not mention the tweet.
"Our hearts go out to the family of Michael Brown and the entire Ferguson family," the statement read. "The sad commentary is not that the grand jury did not come back with an indictment. The sad commentary is many African Americans had no expectation for there to be an indictment. There must be a rush to restore trust in our justice system for all Americans. This begins with an honest debate about pervasive systemic flaws in the justice system all over the country. We will be vigilant in Jackson to ensure that the rights of all citizens are upheld."
In another apparent act of protest on Ridgewood Road in Northeast Jackson, Jackson Academy officials found the words "Justice for Mike Brown" and "Make Darren pay" spray painted in gold on the school's entrance sign.
Green said police are looking into the incident, and Gray said her group had nothing to do with the vandalism.
Source: The Clarion Ledger 
No Charges in Ferguson Case; Chaos Fills Streets
A grand jury declined Monday to indict white police officer Darren Wilson in the death of Michael Brown, the unarmed, black 18-year-old whose fatal shooting sparked weeks of sometimes-violent protests and inflamed deep racial tensions between many African-Americans and police.
Moments after the announcement by St. Louis County's top prosecutor, crowds began pouring into Ferguson streets to protest the decision. Some taunted police, broke windows and vandalized cars. Within a few hours, several large buildings were ablaze, and frequent gunfire was heard. Officers used tear gas to try to disperse some of the gatherings.
Prosecuting Attorney Bob McCulloch said the jury of nine whites and three blacks met on 25 separate days over three months, hearing more than 70 hours of testimony from about 60 witnesses, including three medical examiners and experts on blood, toxicology and firearms.
"They are the only people that have heard and examined every witness and every piece of evidence," he said, adding that the jurors "poured their hearts and soul into this process."
As McCulloch read his statement, Michael Brown's mother, Lesley McSpadden, sat atop a vehicle listening to a broadcast of the announcement. When she heard the decision, she burst into tears and began screaming before being whisked away by supporters.
The crowd with her erupted in anger, converging on the barricade where police in riot gear were standing. They pushed down the barricade and began pelting police with objects, including a bullhorn. Officers stood their ground.
At least nine votes would have been required to indict Wilson. The grand jury met in secret, a standard practice for such proceedings.
Speaking for nearly 45 minutes, a defensive McCulloch repeatedly cited what he said were inconsistencies and erroneous accounts from witnesses. When asked by a reporter whether any of the accounts amount to perjury, he said, "I think they truly believe that's what they saw, but they didn't."
The prosecutor also was critical of the media, saying "the most significant challenge" for his office was a "24-hour news cycle and an insatiable appetite for something ? for anything ? to talk about."
In his statement, McCulloch never mentioned that Brown was unarmed when he was killed.
Brown's family released a statement saying they were "profoundly disappointed" in the decision but asked that the public "channel your frustration in ways that will make a positive change. We need to work together to fix the system that allowed this to happen."
Shortly after the announcement, authorities released more than 1,000 pages of grand jury documents, including Wilson's testimony.
Wilson told jurors that he initially encountered Brown and a friend walking in a street and, when he told them to move to a sidewalk, Brown responded with an expletive.
Wilson then noticed that Brown had a handful of cigars, "and that's when it clicked for me," he said, referring to a radio report minutes earlier of a robbery at a nearby convenience store.
Wilson said he asked a dispatcher to send additional police, then backed his vehicle up in front of Brown and his friend. As he tried to open the door, Wilson said Brown slammed it back shut.
The officer said he then pushed Brown with the door and Brown hit him in the face. Wilson told grand jurors he was thinking: "What do I do not to get beaten inside my car."
"I drew my gun," Wilson told the grand jury. "I said, "Get back or I'm going to shoot you."
"He immediately grabs my gun and says, "You are too much of a pussy to shoot me," Wilson told grand jurors. He said Brown grabbed the gun with his right hand, twisted it and "digs it into my hip."
Asked why he felt the need to pull his gun, Wilson told grand jurors he was concerned another punch to his face could "knock me out or worse."
Brown then fled, and Wilson gave chase. At some point, Brown turned around to face the officer.
Witness accounts were conflicted about whether Brown walked, stumbled or charged back toward Wilson before he was fatally wounded, McCulloch said. There were also differing accounts of how or whether Brown's hands were raised. His body fell about 153 feet from Wilson's vehicle.
Thousands of people rallied in other U.S. cities, including Los Angeles and New York, to protest Monday's decision, leading marches, waving signs and shouting chants of "Hands Up! Don't Shoot," the slogan that has become a rallying cry in protests over police killings across the country.
President Barack Obama appealed for calm and understanding, pleading with both protesters and police to show restraint.
"We are a nation built on the rule of law, so we need to accept that this decision was the grand jury's to make," Obama said. He said it was understandable that some Americans would be "deeply disappointed ? even angered," but echoed Brown's parents in calling for any protests to be peaceful.
Monday night's violence initially resembled the unrest during the days that followed Brown's death, when business windows were smashed and police vehicles damaged. But the destruction soon widened, with several large fires burning out of control and reports of frequent gunfire.
At least 10 St. Louis-bound flights were diverted to other airports because of concern about gunfire being aimed into the sky over Ferguson. Only law-enforcement aircraft were permitted to fly through the area, the Federal Aviation Administration said.
The Justice Department is conducting a separate investigation into possible civil rights violations that could result in federal charges, but investigators would need to satisfy a rigorous standard of proof in order to mount a prosecution. The department also has launched a broad probe into the Ferguson Police Department, looking for patterns of discrimination.
Regardless of the outcome of those investigations, Brown's family could also file a wrongful-death lawsuit against Wilson.
The Aug. 9 shooting heightened tensions in the predominantly black St. Louis suburb that is patrolled by an overwhelmingly white police force. As Brown's body lay for hours in the center of a residential street, an angry crowd of onlookers gathered. Rioting and looting occurred the following night, and police responded with armored vehicles and tear gas.
Protests continued for weeks ? often peacefully, but sometimes turning violent, with demonstrators throwing rocks and Molotov cocktails and police firing smoke canisters, tear gas and rubber bullets. Missouri Gov. Jay Nixon briefly summoned the National Guard.
Throughout the investigation, some black leaders and Brown's parents questioned McCulloch's ability to be impartial. The prosecutor's father, mother, brother, uncle and cousin all worked for the St. Louis Police Department, and his father was killed while responding to a call involving a black suspect in 1964.
McCulloch was 12 at the time, and the killing became a hallmark of his initial campaign for elected prosecutor.
A Democrat, McCulloch has been in office since 1991 and was re-elected to another term earlier this month.
Source: Associated Press
Mississippi State Conference NAACP Responds to Ferguson, Missouri Decision
The Mississippi State Conference NAACP (MS-NAACP) is shocked and deeply disappointed that the grand jury did not indict Darren Wilson for the murder of Michael Brown, Jr.  Once again, the criminal justice system has failed to demonstrate fairness and respect for the human life of black males when the murderer is a white male authority figure.
MS-NAACP is calling on the community to act collectively and calmly until we secure justice for the families of Michael Brown, Trayvon Martin, Sean Bell and the countless number of victims of racial hate crimes in this country.
While we are frustrated, we stand committed to continue our fight against racial profiling, police brutality and the militarization of local authorities.  And we stand in solidarity with peaceful protesters and uphold that their civil rights not be violated as both demonstrators and authorities observe the 'rules of engagement'.  We are also urging all law enforcement agencies to utilize body cameras to ensure greater accountability.
In Jackson, we are working with a local coalition called 'Not Here, Ever Again', that began shortly after the George Zimmerman verdict.  This coalition has provided know your rights training to youth and has met with Jackson Police Chief Lee Vance to develop community-driven solutions for safety and civil liberties in Jackson.  This work should happen across the State of Mississippi to end racial profiling and police brutality.
Our prayers continue to go out to the family, friends and neighbors of 18 year old Michael Brown.
Below are some of the responses to the Mississippi NAACP's statement regarding the Ferguson, Missouri decision.
And, once again the NAACP is promoting a message of "the system does not stand up for black men" therefore perpetuating and fulfilling the prophesy itself.  If you really cared about your members, you would encourage them to respect the decision of the court, not condemn it.  Your actions will only cause more racism, not resolve it.   I for one would like to end all racism.  Therefore, I'm not in the business of organizing protests or discouraging trust in our peers when there is no valid reason to lose this trust.  But I suppose if there was equality among races, the NAACP would no longer have a reason to exist, right?
-Ryan
 Is there a way we can make this a national effort? We need to let this system know that the days of slavery are over; though the system of incarcerating and murdering our men and boys will not be tolerated any longer.
We need a NATIONAL MOVEMENT in this country and sooner than later.
If the facts be told we have probably lost more black men beginning with Emmett Till than we did during the KKK regime.
Yes, I am angry, frustrated and disappointed in this justice system, and just praying and shedding tears is not solving much; for our enemy is neither bible based or compassionate people; the enemy is now desperate and more so that he had ever been to have power and control over everyone.
-Lynette
 Thank you.  Not surprised, but sad.  Hoping the civil action has more success!
-Waurene
State NAACP "Shocked" by Ferguson Decision
On Sunday, 24 hours before the Ferguson grand jury chose not to indict officer Darren Wilson, a leading member of the NAACP was in South Mississippi.
Hilary Shelton is the organization's director of governmental affairs.  When WLOX News asked Shelter about the Ferguson case, and what he anticipated once the grand jury's findings were revealed, the NAACP leader said, "If indeed they fail to indict, we must make sure that it's peaceful.  That is, our outrage needs to be heard as loudly and clearly as possible, but it also needs to be as peaceful as possible as well."
Shelton said on Sunday he thought enough evidence existed to charge the officer with some sort of crime for shooting Michael Brown.  But, he also stressed any protests related to this Ferguson shooting should not include violence.  "The reason we're outraged about loss of life isn't something that should move us to take other lives or destroy other people's properties," the NAACP national vice president said.
A news release from the Mississippi State Conference NAACP says that group is shocked and deeply disappointed that the grand jury did not indict Darren Wilson for the murder of Michael Brown, Jr.  "Once again, the criminal justice system has failed to demonstrate fairness and respect for the human life of black males when the murderer is a white male authority figure," the Mississippi NAACP says in that statement.
The Mississippi chapter's news release says it's calling on the community to act collectively and calmly until the organization can secure justice for the families of Michael Brown, Trayvon Martin, Sean Bell and the countless number of victims of racial hate crimes in this country.
"While we are frustrated, we stand committed to continue our fight against racial profiling, police brutality and the militarization of local authorities.  And we stand in solidarity with peaceful protesters and uphold that their civil rights not be violated as both demonstrators and authorities observe the 'rules of engagement'.  We are also urging all law enforcement agencies to utilize body cameras to ensure greater accountability," the statement says.
In Jackson, the NAACP is working with a local coalition called 'Not Here, Ever Again', that began shortly after the George Zimmerman verdict.  This coalition has provided know your rights training to youth and has met with Jackson Police Chief Lee Vance to develop community-driven solutions for safety and civil liberties in Jackson.  This work should happen across the State of Mississippi to end racial profiling and police brutality.
The news release ends by saying, "Our prayers continue to go out to the family, friends and neighbors of 18 year old Michael Brown."
Source: MSNewsNow
Ferguson Burning After Grand Jury Announcement
The streets were quiet but fires continued to burn Tuesday following a night of violence triggered by a grand jury's decision not to indict white police officer Darren Wilson for the August shooting death of unarmed, black teen Michael Brown.
Demonstrators taunted police, shattered windows and set fire to two St. Louis County police cars at the protest's furious peak. Scattered, intermittent gunfire was also reported.
St. Louis County Police Chief Jon Belmar said at a news conference early Tuesday that at least a dozen buildings were set ablaze and that he had heard at least 150 gunshots, none fired by police. A police officer was shot but not seriously hurt, Belmar said, although authorities later determined the shooting was unrelated to the protests.
Police had made 61 arrests; 59 of those arrested were from the area.
"I'm disappointed," Belmar said, adding that it would have taken "10,000 policemen" to control the mayhem. "What I've seen tonight is probably worse than the worst night we had in August."
The turmoil began after St. Louis County prosecutor Bob McCulloch announced that the grand jury of nine whites and three blacks, who met on 25 days over three months, had determined that Wilson should face no charges.
"They are the only people that have heard and examined every witness and every piece of evidence," he said.
McCulloch released more than 1,000 pages of documents and testimony from the grand jury proceedings. That included testimony from Wilson, who said Brown attacked him in the patrol car, forcing him to shoot. Witnesses accounts differed on whether Brown's hands were raised moments later when Wilson fired the fatal shots on a street, McCulloch said.
Brown's parents have scheduled a noon ET press conference Tuesday with Al Sharpton. Benjamin Crump, a lawyer representing Brown's family, said Brown's mother, Lesley McSpadden, was "absolutely shocked" when they received the news.
"She believed he would at least be charged with something," Crump told NBC'sToday show. "She was overcome with emotion. We had just prayed before the announcement came and she really believed the system was going to work equally for her child."
Scores of police officers in Ferguson, armed with riot gear, dispersed a crowd of about 300 overnight with volley after volley of tear gas, pepper spray and bean bags. But not before looters plundered a Walgreens, a Family Dollar and an AutoZone outlet. Other protesters torched a Little Caesars pizza restaurant and local beauty shop — among several buildings set ablaze that were continuing to light up the sky early Tuesday morning.
The chaos grounded flights in and out of St. Louis' Lambert International Airport airlines until early Tuesday "to provide a safe environment for law enforcement activities," the Federal Aviation Administration said.
Much of the crowd had been dispersed by about midnight. There were no other official reports of arrests or injuries.
Monday's violence — reminiscent of the unrest that rocked this St. Louis suburb for several days following Brown's death last summer — came despite efforts by Brown's family, civil rights activists, local and state authorities and President Obama to tamp down anger in the wake of the grand jury's findings. "There's never an excuse for violence," Obama said.
Still, Ferguson resident Malik Rhasaan, a community organizer with Hands Up United, said the carnage was nothing compared with the sight of Brown's body lying in the street for several hours following his death. "They have insurance. They can rebuild," said Rhasaan, 42. "The life of Mike Brown can't be rebuilt. Our patience cannot be rebuilt."
Richard Royal, a manager at a local Sonic restaurant who was told by police to close up early Monday, said he understood the frustration and anger at the grand jury's decision, but said the violence was unnecessary. "We could have done something better, like a boycott, that would have hit them in their pockets," said Royal, 32.
Demonstrators reacted more peacefully in several other cities, where police were braced for raucous protests. Authorities initially reported that gatherings were mostly peaceful.
Immediately following the announcement, the American Civil Liberties Union of Missouri said the decision "does not negate the fact that Michael Brown's tragic death is part of an alarming national trend of officers using excessive force against people of color, often during routine encounters. Yet in most cases, the officers and police departments are not held accountable."
The ACLU said that while many police officers "carry out their jobs with respect for the communities they serve, we must confront the profound disconnect and disrespect that many communities of color experience with their local law enforcement."
Ron Hosko, president of the Law Enforcement Legal Defense Fund, described Wilson as "a victim of a politicized agenda that deemed him guilty until proven innocent."
"Although he will walk free, his life has been forever changed, as he has been exploited in a cynical effort to turn civilians against cops in fulfillment of an anti-law enforcement agenda," said Hosko, a former FBI assistant director.
U.S. Conference of Mayors President Kevin Johnson, an African American who is mayor of Sacramento, said in a statement, "The nation's mayors strongly believe that there should have been open-court proceedings in the case of the officer-involved shooting of Michael Brown so that the evidence could have been presented in a public forum, and a verdict could have been rendered by a jury."
Source: USA Today 
Related Links:
ACLU
Mississippi Center for Justice
Magnolia Bar Association